Recently people have been asking for the recipes that Jorge and I have been making, so I am going to put some up on here. We got pretty much all of the recipes from Pintrest and they are HEALTHY and DELICIOUS!
I must admit that a lot of the recipes I improvised on, I just worked with what I had.. sometimes I only had lemon not lime so I would substitute or cayenne pepper instead of red pepper etc. a lot of the recipes that called for onions I left them out.
Main Dishes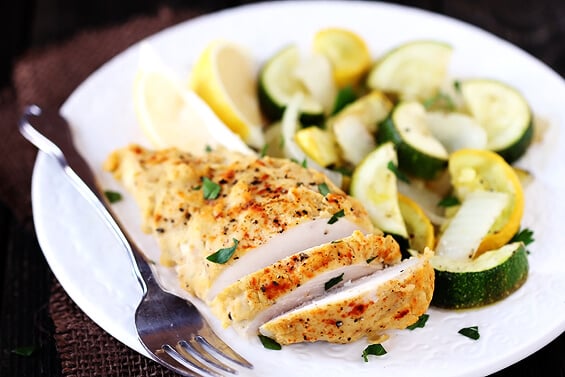 Picture and recipe from
http://www.gimmesomeoven.com/hummus-crusted-chicken/
1. Hummus Crusted Chicken
This Hummus Chicken was SO amazing and SO easy! I just bought the hummus dipping stuff. I didn't make the veggies with it instead I made a quinoa salad which I will add the recipe below.
Ingredients
4 boneless, skinless chicken breasts
salt and pepper
1 zucchini, chopped
1 yellow squash, chopped
1 medium onion, chopped
1 cup hummus, homemade or store bought
1 Tbsp. olive oil
2 lemons
1 tsp. smoked paprika or sumac
Preheat oven to 450 degrees. Prepare one large baking dish or two smaller baking dishes with cooking spray.
Season the chicken breasts with generous pinches of salt and pepper. In a large bowl, toss the zucchini, squash and onion with olive oil until evenly coated. Season with salt and pepper.
If using one baking dish, place all of the vegetables on the bottom of the dish in an even layer. Lay the four chicken breasts evenly on top, then cover each chicken breast with the hummus so that the entire breast is covered. Squeeze the juice of one lemon over the chicken and vegetables. Then sprinkle the pan with smoked paprika or sumac. Thinly slice the remaining lemon, and place the slices in between the chicken and vegetables if desired.
**If using two pans, use one for the chicken and one for the vegetables.**
Bake for about 25-30 minutes, until the chicken is cooked through and the vegetables are tender. Serve immediately.
2. Spicy Salmon and Veggies
This Spicy Salmon and Veggies was seriously to die for and again VERY easy! (I love easy!) I did make the veggies with this one I just left out the onions but the flavor was so good!
Ingredients
Nonstick cooking spray

1 big lime squeezed

4 garlic cloves - minced

2 tsp. red pepper

2 tsp. cumin

1/8 c. chopped cilantro

2 tbsp. olive oil

2-4 skinless salmon fillets
1 1/2 c. frozen corn, thawed
1/4-1/2 Red bell pepper, sliced thin
1/4-1/2 Yellow bell pepper, sliced thin
1/4-1/2 Orange bell pepper, sliced thin
1 Serrano pepper, sliced thin, seeds removed
1/2 small red onion, sliced thin
Dash of onion powder and garlic powder
Freshly ground black pepper
Preheat the oven to 425 degrees. Cover a big baking sheet with aluminum foil and spray lightly with cooking spray. (Easy clean up, for the win!!)

In a small dish, mix the lime juice, garlic, red pepper, cumin, cilantro and oil. Dip the filet's in the mix and place on the baking sheet.

In a medium bowl, toss corn, peppers, and onion. Pour the rest of the marinade over the veggies, toss, and spread on the baking sheet. Dash some onion powder, garlic powder and black pepper over the veggies for some extra flavor.

Place baking sheet in oven for 10-15 minutes until fish is cooked through and veggies are starting to brown. Serve and salivate!







3.Southwestern Stuffed Peppers

The Southwestern Stuffed Peppers were really good, Jorge had been wanting to make them so I bought everything and he made it. He said it was a little time consuming but totally worth it!


Ingredients



Olive Oil ( I used Tahitian lime olive oil)

1/2 lb lean ground turkey breast
1 cup chopped onions
1 heaping tbsp of homemade taco seasoning (or you can use the packaged type if you like)
2 cups of cooked rice (any type you like – I like brown)
3-4 organic bell peppers, halved and seeds removed
1 can of black beans, drained & rinsed
½ cup of organic frozen corn
1 (15 -16 ounce) jar of salsa (my favorite is mango peach)
Shredded Cheddar Cheese
Toppings:
fresh cilantro
sour cream
sliced avocado
Pre heat the oven to 400 degrees. Lightly coat the peppers with olive oil and roast in a baking dish about 20-25 minutes just until cooked thru. Remove the peppers from the oven and allow to cool until you can handle them.

In a bowl add the taco seasoning, cooked ground turkey, chopped onions, black beans, corn and rice. Add in the jar of salsa and mix well.
Carefully spoon the turkey mixture into each half of the bell peppers and place back into the baking dish. Cook the peppers for another 15-20 minutes or until the peppers are cooked all the way thru. Before removing from the oven sprinkle the tops of each pepper with shredded cheddar cheese. Place back into the oven just until the cheese has melted.
Remove from the oven and top with fresh cilantro, avocado slices and/or sour cream just before serving.



Sides
Quinoa Salad
This Quinoa Salad is so delicious! I'm just going to give you the link for it, but I'm telling you its worth making! Its a great side and I liked it cold. I didn't use the jalapeno or shallot and I used a flavored quinoa but I'm sure its good no matter how you make it. It was very refreshing!

Strawberry Mango Salsa
This salsa was interesting, it was good but different. I wasn't sure what to eat it with so I made wheat tortilla chips with cinnamon sugar sprinkled on top.
3/4 Cup Strawberries, finely diced
3/4 Cup Mango's, finely diced
1/4 Cup Red Onion, finely chopped
6 Basil Leaves, finely chopped
1 TBSP Fresh Lemon Juice
1/4 tsp. Sea Salt
1/4 tsp. Black Pepper
Combine all ingredients and allow to sit in the refrigerator for a few hours, covered.
Lastly for now.....
Dried Strawberries
These were really good but I need to figure out how to master them... they stuck to the pan really bad.. any tips would be appreciated about drying ANY fruits. I have found a new love with dried fruits but when you buy them in the store you get all the extra stuff that makes them not as healthy.

Ingredients


Strawberries
Salt and Pepper
Halve or quarter the strawberries, depending on their size; place on a baking sheet; season with salt and pepper;
Dry in the oven for three hours at 100° C / 210° F.
There ya have it! Some of my favorite recipes from the last week or so! I will add more as I try find them and I try them!
Comment below if you try any of these or if you have any great healthy recipes to share!